Airmid Therapies
We (Anne-Marie, Gavin, Ciara, Evelyn, Michelle and Olivia) offer a range of complementary therapies in Newry and surrounding areas with a professional and individualized approach for your well-being and comfort. Treatments offered include: Reflexology (foot and facial), Therapeutic / Aromatherapy Massage, Reiki, Indian Head Massage, Deep Tissue Massage, Sports Massage, Seichim, Natural Facial Lift Massage, Pregnancy Massage, Fertility and Maternity Reflexology, Kinetic Chain Release (KCR) and Connective Tissue Release (CTR), Hot Stone Massage Massage, Counselling, Nutrition and Lifestyle Coaching, Facial Reflexology and Zone Face Lift Massage.
New - Candle Making Classes Now available at Airmid Therapies. For more information and to book click onto our Candle Making Class.
Whether you are experiencing pain, illness or just want to pamper yourself, Airmid Therapies is here for you. For a professional, quality and relaxed treatment for you, a loved one or a friend, contact us today. Gift vouchers are available contact us to order or order using the button below.
Blog Airmid Therapies blog is all about health and well-being. To read more, visit our blog here.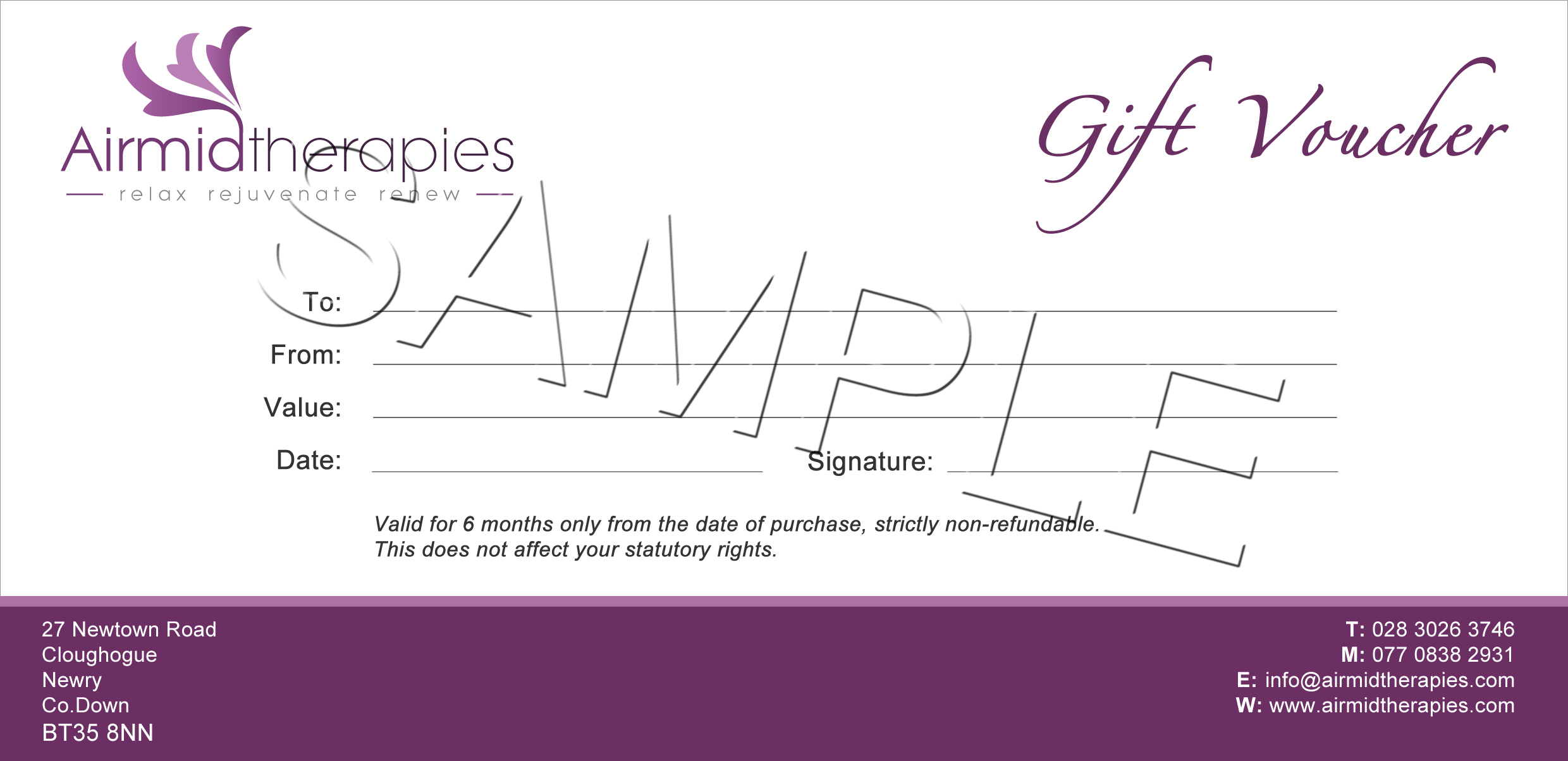 AIRMID THERAPIES TREATMENTS
As with all our treatments, a full consultation will be completed in the strictest of confidence to ensure that the treatment is suitable for you.
Courses
Treatments
New Treatment - Facial Reflexology & Zone Face Lift Massage
Pioneering a New Way To Naturally Age Well and Lift the Face inspired by creator Ziggie Bergman. This magical treatment combines ancient and modern techniques such as Bergman Method Facial Reflexology, Japanese Facelift Massage, GuaSha, Quartz Crystals along with Native American healing herbs. Visit here for more details on these amazing new treatments.
more details
Airmid Escentuals Aromatherapy Products
Sale now on
We have our own range of hand made aromatherapy products including: luxury soy wax candles and melts/tarts and diffusers (all enriched with essential oils). Visit our online shop: Airmid Escentuals Shop
more details
Testimonials
"I attended Annemarie for reflexology on 3 occasions and every time I felt I received a very soothing experience. The attention to detail did not stop at my feet.......there was relaxing music, cosy..."
read more
Louise - Co.Kildare
Testimonials
"I attended Annemarie for reflexology on 3 occasions and every time I felt I received a very soothing experience. The attention to detail did not stop at my feet.......there was relaxing music, cosy blankets, atmospheric lighting and a very friendly service. I would definitely recommend it to a friend."
read less
Louise - Co.Kildare